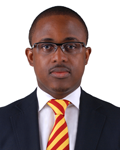 Adebowale has over 10 years of professional work experience across banking, marketing communications, project management and credit bureaus fields.

He has been involved as a management consultant and client relationship manager with credit bureaus in Brunei and Nigeria. He has consulted for the credit bureau in Brunei and advised on legal and data management aspects. In addition, he is closely working with the credit bureau in Nigeria to manage the operations, facilitate training and ensure overall efficient performance of the bureau. He has also been involved in managing client relationships with several banks in Nigeria and developing business opportunities across Africa. Currently, he is managing D&B's new private credit bureau Dun & Bradstreet Credit Bureau Tanzania Ltd. based in Dar es Salaam. 

Adebowale graduated in Political Sciences from the University of Ibadan and completed his Master of Business Administration from Hult International Business School. In addition, he has been trained in Project Management (Prince 2, Foundation) and Business Analysis (ISEB, Essentials).