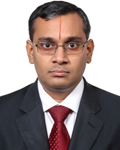 Ranganathan has over 13 years of work experience in the data management business. He has been working with D&B since 1999, when he started his career as a software programmer.

He has spent 7 years of his career in the credit bureau domain. He has been instrumental in managing the implementation of credit bureaus in India, Dubai and Brunei. His key responsibilities include business and data analysis. 

In addition to being an expert in the credit bureau domain, he has developed products revolving around D&B data and managed projects that delivered services to clients in traditional and contemporary business lines.

Ranganathan graduated in Mathematics from Madras University.