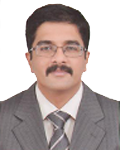 Sunil Rao has over 13 years of experience in consulting and implementation of projects in credit bureau, banking and financial services of which the last 6 years have been focused on program management.

He has been involved throughout the life cycle of various large scale projects for financial institutions and Central Banks. During his career, he has been instrumental in generating multiple business opportunities for product suites across data management, risk management and IT services. His primary focus is on delivering quality deliverables to the satisfaction of clients' in addition to managing projects to accomplish schedule, cost and scope compliance. He has worked on various core banking and treasury products, mortgage processing systems catering to Australian, U.S and U.K markets. 

He has been involved in the credit bureau industry for over 6 years and has implemented credit bureaus in Egypt, Brunei and Sultanate of Oman. For his credit bureau implementations, he has worked extensively on consumer, SME, corporate and telecommunication data in addition to scoring & rating and value-added products. In addition to managing end to end successful credit bureau implementations, he has worked closely with the member banks and financial leasing companies to ensure data quality compliance as per the credit bureau quality standards. 

He holds a Business Administration degree with major in Information Technology and is a Project Management Professional (PMP) & Microsoft Certified Software Engineer (MCSE) professional.