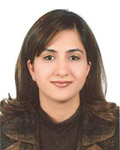 Bhawna has over 7 years of experience working in the credit bureau domain.

She has been involved with business development and consulting for bureaus in developing economies. Her key responsibilities include developing feasibility study reports and business plans for new markets. In addition, she is involved with client management pre and post implementation.

She works closely with Project Managers to ensure project implementation and support meets with planned requirements, timelines and costs. She also supports the financial management activities. Further, she manages the marketing function of the company to ensure D&B's presence in print & social media and strategic events.

Bhawna graduated from the University of Southern New Hampshire with a major in Finance & Marketing and completed her PGDM in Finance from S.P.Jain Centre of Management. She has also completed a professional course on Consultant's Toolkit at Harvard School of Continuing Education, Harvard University.